DC – Network Addressing
Layer 3 network addressing is one of the major tasks of Network Layer. Network Addresses are always logical i.e. these are software based addresses which can be changed by appropriate configurations.
A network address always points to host / node / server or it can represent a whole network. Network address is always configured on network interface card and is generally mapped by system with the MAC address (hardware address or layer-2 address) of the machine for Layer-2 communication.
There are different kinds of network addresses in existence:
We are discussing IP here as it is the only one we use in practice these days.
IP addressing provides mechanism to differentiate between hosts and network. Because IP addresses are assigned in hierarchical manner, a host always resides under a specific network.The host which needs to communicate outside its subnet, needs to know destination network address, where the packet/data is to be sent.
Hosts in different subnet need a mechanism to locate each other. This task can be done by DNS. DNS is a server which provides Layer-3 address of remote host mapped with its domain name or FQDN. When a host acquires the Layer-3 Address (IP Address) of the remote host, it forwards all its packet to its gateway. A gateway is a router equipped with all the information which leads to route packets to the destination host.
Routers take help of routing tables, which has the following information:
Method to reach the network
Routers upon receiving a forwarding request, forwards packet to its next hop (adjacent router) towards the destination.
The next router on the path follows the same thing and eventually the data packet reaches its destination.
Network address can be of one of the following:
Unicast (destined to one host)
Multicast (destined to group)
Broadcast (destined to all)
Anycast (destined to nearest one)
A router never forwards broadcast traffic by default. Multicast traffic uses special treatment as it is most a video stream or audio with highest priority. Anycast is just similar to unicast, except that the packets are delivered to the nearest destination when multiple destinations are available.
DC – Network Layer Routing
When a device has multiple paths to reach a destination, it always selects one path by preferring it over others. This selection process is termed as Routing. Routing is done by special network devices called routers or it can be done by means of software processes. The software based routers have limited functionality and limited scope.
A router is always configured with some default route. A default route tells the router where to forward a packet if there is no route found for specific destination. In case there are multiple path existing to reach the same destination, router can make decision based on the following information:
Hop Count
Bandwidth
Metric
Prefix-length  Delay
Routes can be statically configured or dynamically learnt. One route can be configured to be preferred over others.
Addressing (Data Communications and Networking)
Before you can send a message, you must know the destination address. It is extremely important to understand that each computer has several addresses, each used by a different layer. One address is used by the data link layer, another by the network layer, and still another by the application layer.
When users work with application software, they typically use the application layer address. For example, in next topic, we discussed application software that used Internet addresses (e.g., www.indiana.edu). This is an application layer address (or a server name). When a user types an Internet address into a Web browser, the request is passed to the network layer as part of an application layer packet formatted using the HTTP protocol (Figure 5.6).
The network layer software, in turn, uses a network layer address. The network layer protocol used on the Internet is IP, so this Web address (www.indiana.edu) is translated into an IP address that is 4 bytes long when using IPv4 (e.g., 129.79.127.4) (Figure 5.6). This process is similar to using a phone book to go from someone's name to his or her phone number.2
The network layer then determines the best route through the network to the final destination. On the basis of this routing, the network layer identifies the data link layer address of the next computer to which the message should be sent. If the data link layer is running Ethernet, then the network layer IP address would be translated into an Ethernet address. Next topic shows that Ethernet addresses are six bytes in length, so a possible address might be 00-0F-00-81-14-00 (Ethernet addresses are usually expressed in hexadecimal) (Figure 1).
| | | |
| --- | --- | --- |
| Address | Example Software | Example Address |
| Application layer | Web browser | www.kelley.indiana.edu |
| Network layer | Internet Protocol | 129.79.127.4 |
| Data link layer | Ethernet | 00-0C-00-F5-03-5A |
Figure 1 Types of addresses
Assigning Addresses
In general, the data link layer address is permanently encoded in each network card, which is why the data link layer address is also commonly called the physical address or the MAC address. This address is part of the hardware (e.g., Ethernet card) and can never be changed.
Network layer addresses are generally assigned by software. Every network layer software package usually has a configuration file that specifies the network layer address for that computer. Network managers can assign any network layer addresses they want.
Application layer addresses (or server names) are also assigned by a software configuration file. Virtually all servers have an application layer address, but most client computers do not. Network layer addresses and application layer addresses go hand in hand, so the same standards group usually assigns both (e.g., https://draftsbook.com/ at the application layer means 112.79.78.4 at the network layer). It is possible to have several application layer addresses for the same computer.
Internet Addresses No one is permitted to operate a computer on the Internet unless they use approved addresses. ICANN (Internet Corporation for Assigned Names and Numbers) is responsible for managing the assignment of network layer addresses (i.e., IP addresses) and application layer addresses (e.g https://draftsbook.com/). ICANN sets the rules by which new domain names (e.g., com, .org, .ca, .uk) are created and IP address numbers are assigned to users.
Several application layer addresses and network layer addresses can be assigned at the same time. IP addresses are often assigned in groups, so that one organization receives a set of numerically similar addresses for use on its computers. For example, https://draftsbook.com/ has been assigned the set of application layer addresses that end in indiana.edu and iu.edu and the set of IP addresses in the 112.79.x.x range (i.e., all IP addresses that start with the numbers 112.79).
In the old days of the Internet, addresses used to be assigned by class. A class A address was one for which the organization received a fixed first byte and could allocate the remaining three bytes. For example, Hewlett-Packard (HP) was assigned the 15.x.x.x address range which has about 16 million addresses. A class B address has the first two bytes fixed, and the organization can assign the remaining two bytes. https://draftsbook.com/ has a class B address, which provides about 65,000 addresses.
People still talk about Internet address classes, but addresses are no longer assigned in this way and most network vendors are no longer using the terminology. The newer terminology is classless addressing in which a slash is used to indicate the address range (it's also called slash notation). For example 128.192.1.0/24 means the first 24 bits (three bytes) are fixed, and the organization can allocate the last byte (eight bits).
One of the problems with the current address system is that the Internet is quickly running out of addresses. Although the four-byte address of IPv4 provides more than 4 billion possible addresses, the fact that they are assigned in sets significantly limits the number of usable addresses.
Subnets Each organization must assign the IP addresses it has received to specific computers on its networks. In general, IP addresses are assigned so that all computers on the same LAN have similar addresses. For example, suppose an organization has just received a set of addresses starting with 128.192.x.x. It is customary to assign all the computers in the same LAN numbers that start with the same first three digits, so the business school LAN might be assigned 128.192.56.x, which means all the computers in that LAN would have IP numbers starting with those numbers (e.g., 128.192.56.4, 128.192.56.5, and so on) (Figure 2).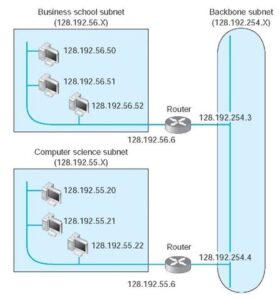 Routers connect two or more subnets so they have a separate address on each subnet. The routers in Figure 2, for example, have two addresses each because they connect two subnets and must have one address in each subnet.
Although it is customary to use the first three bytes of the IP address to indicate different subnets, it is not required. Any portion of the IP address can be designated as a subnet by using a subnet mask.
Figure 2 Address subnets